Get Gift Card Rebate Instructions Here for Dec 29, 2021 - Jan 31, 2022 Purchases
Ends February 28th
NEW YEAR – NEW YEAR'S RESOLUTION
With the holidays behind us, and the start of 2021 upon us. We wish you good health, strength, and peace in 2021. A special gift just for YOU!
Dec 29, 2021 – Jan 31, 2022: For every $50 you spend at Board Room Skate Shop, Breathe Barre & Pilates, Clear Yoga, and/or Hempability, you'll get $5 Montgomery Row gift card. Spend More! Get More!
'New Year's Resolution' INSTRUCTIONS: 
SHOP IN-STORE &/OR ONLINE: Submit your valid receipts: By Mail: Mail your first and last name, mailing address, email, and participating merchant's receipt(s) to: attn: FIT, Montgomery Row, PO Box 231, Rhinebeck, NY 12572. OR  By Email: Scan or Snap a pic of your receipts or Forward 'Square' receipt(s) in an email along with your first and last name, mailing address, email address to shop.montgomeryrow@gmail.com. One submission per person/household accepted. Easy Peasy.  Any questions please Contact Us. 
AUTO-PAY MONTHLY MEMBERSHIP: Monthly memberships paid via auto-pay for Breathe Barre & Pilates and/or payments for Breathe's January 'RESET' &/or Breathe's January DETOX will be tallied for participating time period and submitted automatically by Breathe. Easy Peasy.  Any questions please Contact Us.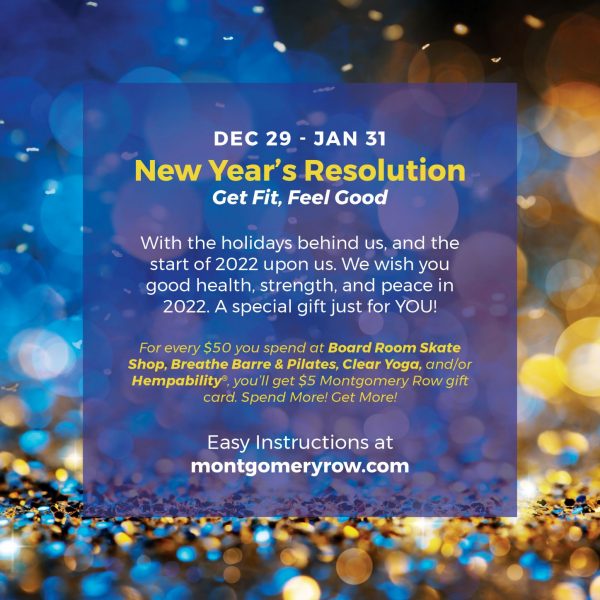 Disclaimer: Receipts must include date of purchase, name of participating business, and amount of purchase; itemized if applicable; Taxes, gratuities, coupons, gift certificate purchases, duplicate receipts, and/or shipping are excluded; photocopies/xerox, credit card statements shall not be accepted as receipts; receipts will not be returned; expect 6-8 weeks for processing; processing starts after promotion ends; max of $30 gift card per household and/or person. Participating receipts are tallied cumulatively (meaning we add your receipts from all participating businesses together for one total). Offer expires 2/28/22.  Mailed submissions must be postmarked no later than 2/28/22 to be accepted. Emailed submissions must be received by 11:59 pm on 2/28/22. Montgomery Row gift cards are valid for 12 months.