MaryAnn Feldstein, LMFT
Licensed Marriage and Family Therapist
by appt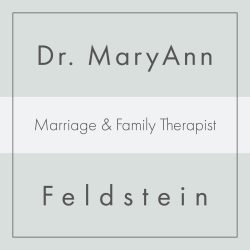 Licensed marriage and family therapist Dr. MaryAnn Feldstein is passionate about helping couples, families, and individuals at every age and stage clarify desired outcomes, discover and maximize strengths, navigate and resolve conflict, and confidently carve out paths that will allow them to thrive. In addition to her work helping people process, understand, and maintain a sense of peace and well-being as they journey through typical life experiences, Dr. Feldstein also offers specialized counseling to those dealing with the impacts of physical and terminal illness.
Dr. Feldstein holds a doctorate from Columbia University, advanced family therapy training from the Ackerman Institute for the Family, and served as a member of the Psychiatric Liaison Team at Memorial Sloan Kettering Cancer Center. She can be reached by email:
feldstein.maryann@gmail.com
or by phone: 917-734-9010 or 845-516-5160.