Oblong Books & Music
We're Open! Come in, Browse, Shop!
Covid19 Hrs: Mon, Wed-Sun 11am-5pm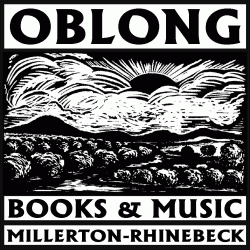 COVID19 UPDATE: We're Open Wednesday thru Monday! Come in & Browse! Read our Safety Protocols Masks required. Our bathrooms will be closed to public. Curbside Pickup is avail Tues 11am-5pm. For curbside pick up, place your order via Shop Online; at check out, choose your delivery/pickup option. In addition to books, our shop has puzzles, toys, board games, coloring and activity books, gifts, and more. Plus Oblong Bundles for Birthday Celebrations. Purchase Gift Certificates. More Info COVID19 UPDATE
Founded in 1975, Oblong Books & Music is the largest independent bookseller in the Hudson Valley. With a vibrant children's book & toy section, a large bargain books selection, and a knowledgeable staff, Oblong has something for everyone.