Sapling
We're Open! Come in, Browse, Shop!
Mon thru Sat 11am - 5:30pm; Sun til 4:30pm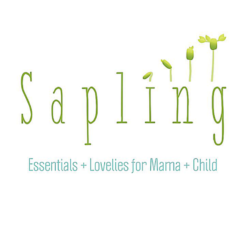 COVID19 UPDATE: SAPLING IS OPEN! Mask required. Come in, browse, shop! Call shop with any questions. Also available – Sapling Online. Offering Zoom Kindermusik and Pre-Natal Yoga Classes COVID19 UPDATE
Sapling is a natural parenting store and wellness boutique, focusing on the essential needs of mama, child and the "naturally modern family".  We hand-pick our eco-friendly toys, maternity/nursing bras and clothing, baby carriers, feeding supplies, potties, cloth diapers, swaddles, gear and more.  Our maternity clothing and bras  are unique, as they are for "maternity and beyond", fitting pregnancy through nursing/ post-partum.  We offer a full range of local, USA-made and eco-friendly products as well as providing a comprehensive list of educational and wellness services.
In-store Classes: Pre-Natal Yoga, Baby & Me Yoga, Tiny Dreamers Ballet, Mini Canvas/Toddler Art, Kindermusik