Sapling/StarryBird Kids
We're Open! Come in, Browse, Shop!
Mon thru Sat 10am - 5:30pm; Sun 12noon - 4:30pm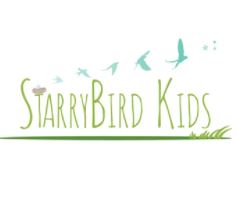 COVID19 UPDATE: We're Open! Come in, browse, shop! Not quite ready, then Shop Online. Offering Zoom Kindermusik and Pre-Natal Yoga Classes COVID19 UPDATE
Sapling = StarryBird Kids. Sapling Shop has taken flight and is now StarryBird Kids! StarryBird Kids is an ode to our children who shine bright and take flight. While the name changed, everything else has remained the same. So, welcome to your favorite old shop with a new name. Enjoy our carefully curated essentials and lovelies, handpicked for your delight.
Sapling/StarryBird Kids is a natural parenting store and wellness boutique, focusing on the essential needs of mama, child and the "naturally modern family".  We hand-pick our eco-friendly toys, maternity/nursing bras and clothing, baby carriers, feeding supplies, potties, cloth diapers, swaddles, gear and more.  Our maternity clothing and bras  are unique, as they are for "maternity and beyond", fitting pregnancy through nursing/ post-partum.  We offer a full range of local, USA-made and eco-friendly products as well as providing a comprehensive list of educational and wellness services.
Classes: Pre-Natal Yoga, Baby & Me Yoga, Tiny Dreamers Ballet, Mini Canvas/Toddler Art, Kindermusik