FAIRS & FESTIVALS
Taste of Rhinebeck, Sinterklaas & Starlight Parade, Country Living Fair, Antiques Fair, Sheep & Wool Festival, Pet Palooza, Good Guys Car Show, Dutchess County Fair, Crafts at Rhinebeck, Hudson Valley Food & Wine Festival, Rhinebeck Sidewalk Sale Days. These events are all within walking distance of Montgomery Row.
Sinterklaas & Starlight Parade
Hudson Valley Food & Wine Festival
FARMS
Pick-your-own fruit and vegetables at neighboring farms or experience Rhinebeck's year-round Farmer's Market. Mouth-watering organic vegetables, fruits, honey, cheeses, fresh breads, natural beef, poultry, venison, eggs, plus beautiful flowers. Battenfeld's and Wonderland offer cut-your-own Christmas trees and home-grown anemones.
Rhinebeck Farmer's Market
HISTORY BUFFS
Located in the Hudson River Heritage Area, there are more than 8 historic sites plus the first Presidential Library, Franklin Delano Roosevelt's within 15 miles of Montgomery Row. Visit "River Mansions" Wilderstein (home of FDR's cousin Daisy Suckley) and Staatsburgh for a trip backward in time to the Gilded Age or Victorian era. Rather fly over the Hudson Valley in a bi-plane? Then contact the Rhinebeck Aerodrome, the perfect place to view vintage World War I planes or experience a daredevil air show. Don't have a car, still plenty to see. Stroll our quaint village, Rhinebeck's walking tour includes over 13 historic homes and buildings in the downtown (pick up a map at Chamber of Commerce Information Booth).
Staatsburgh Mills Mansion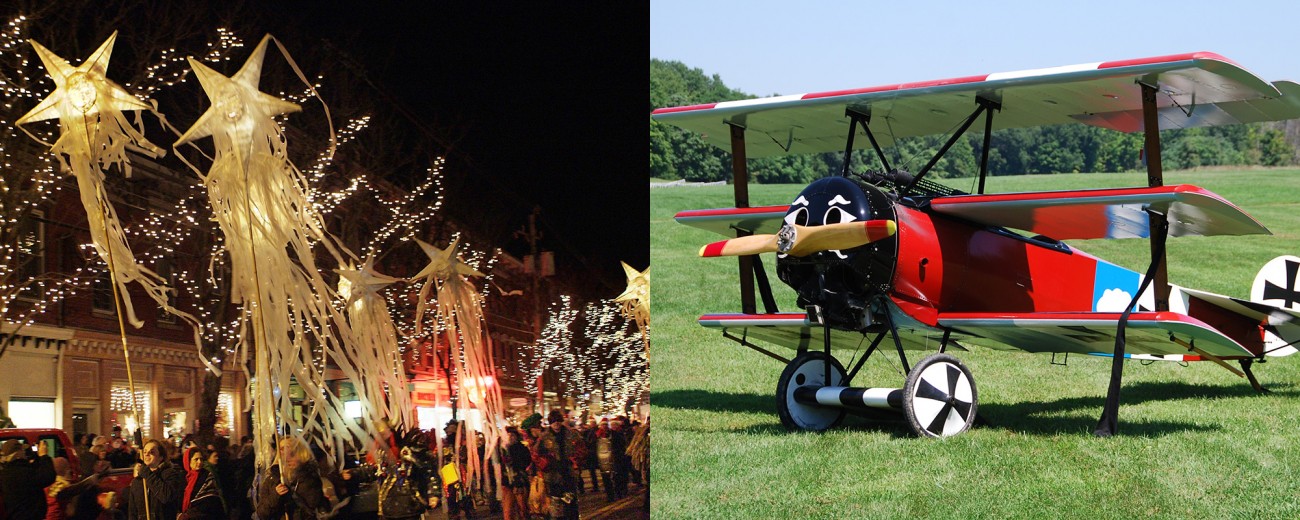 MUSIC & THEATRE
Since 1972, Upstate Films, Rhinebeck's movie house, located within steps of Montgomery Row, has fulfilled the community's thirst for indie films bringing filmmakers John Sayles and Kelly Reichert among others and actors, such as, Steve Buscemi for post-viewing conversations. Book your tickets in advance for phenomenal performances at the Richard A. Fisher Center of Performing Arts. Or for something more casual, the Center for Performing Arts provides plays, musicals, & child-friendly events such as magic shows or sing-along groups.
Richard A. Fisher Center of Performing Arts
OMEGA INSTITUTE
Nationally-known institute offering classes, seminars and multi-day workshops in holistic wellness and personal growth. Featuring one of the greenest buildings in America (a net zero energy building), the Omega Center for Sustainable Living.
TAKE A HIKE
If stretching your legs and breathing the country air is more your style. You'll have plenty of choices. Walking trails, Poet's Walk, Burger Hill Park, and Ferncliff Forest Fire Tower, are all within 5 miles. Dogs are welcome if leashed. Bring your binoculars for falcon and hawk sightings perhaps even Bald Eagles fishing from ice floes.
BRING THE KIDS
In addition to these activities, there is a playground, basketball & tennis courts, and swimming pool in Rhinebeck. Magic and puppet shows at Center for Performing Arts. Free summer lawn concerts and the best winter sledding at Staatsburgh Historic Site. Kesicke Farm offers seasonal family events including hay rides.
STAY THE NIGHT
Hotels, bed & breakfasts, campgrounds, vacation rentals, and the famed Beekman Arms Inn. Some of our favorites include Olde Rhinebeck Inn c.1745 and Mirbeau Inn & Spa
Rhinebeck Motel
WEDDING OR SPECIAL EVENT
Former first daughter, Chelsea Clinton and Mark Mezvinsky made Rhinebeck their wedding destination in 2010. Make it yours.