Krause's Chocolates
Award-Winning Hand-Dipped Chocolates
Mon-Sat 11am-6pm; We're Open Feb 13 (Sun)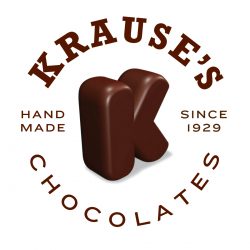 The Krause family has been making exceptional candies for over 80 years. Owner Karl Krause is a third generation confectioner who uses his grandfather's recipes and hand-dipping techniques. Each chocolate, a unique creation, is made fresh every day. Over 50 varieties – award-winning caramels, truffles, peanut butter, coconut, raspberry jellies, molasses sponge, almond bark, and more! Other hand-made best sellers include melt-in-your-mouth peanut brittle and creamy fudge. We offer milk, dark, extra dark, white, and organic chocolates. Hundreds of shapes and chocolate molds for wedding or party favors, holiday and seasonal gifts. Licorice, gummies, sugar-free chocolates and candy too.
Follow us on social media for notifications of specials ie chocolate covered strawberries, chocolate dipped cheese-cake, chocolate dipped frozen bananas, seasonal truffle flavors, and other treats!
Skip the line? Call the store at 845.876.3909; Pre-pay with a credit card; then pick up.