Oliva! Gourmet OLive Oils & Vinegars
Gourmet Olive Oils, Vinegars, Gift Baskets
Open Daily 11am-5pm, Closed Tues, Closed Jan 3-10, 2023 for Holiday Break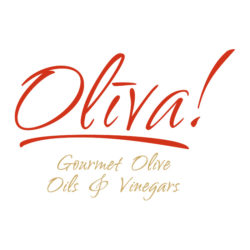 We showcase extra virgin olive oils and white and dark balsamic vinegars from around the world. Our  50 stainless steel,  Italian Fustis are filled with single cultivar, award winning olive oil; fused and infused oils, and balsamic vinegars from Modena, Italy. We also sell specialty oils and vinegars, such as white truffle oil and serrano honey vinegar. Oliva!  imports in bulk directly to our store, from both hemispheres, and then store the oils and vinegars in the fustis until bottled for our customers.  Because of this, we can "follow the crush",  allowing us to offer you the freshest oil available from  Spain, Portugal, Italy, Tunisia,  Australia, California, Greece, Chile, & more.
In addition to our olive oils and vinegars, we also sell salts, spices, straight from the hive honey, olives, and our fan-favorite gift baskets perfect for weddings, corporate gifts, & everyday fun.
Monthly Pairing = Every month we feature 1 balsamic vinegar + 1 olive oil. Purchase both and Save 10%.  Follow Us on Social Media to get notifications and recipes.
Lots of shopping options – a)Browse + Shop In-store;  b) Call Ahead for Curbside Pick Up;  or c) Shop Online. Olive Oils, Flavored Balsamic Vinegars, Local Honey, Olives, Salts, Spices. Olive Oil-of-the-month Club, Birthday & Gift Baskets. Recipes
Taste, Savor, and Enjoy!