Spend $55*, Get $5 Montgomery Row Gift Card!
Ends April 5th
EAT, DRINK, DINE!
March 5 – April 5, 2020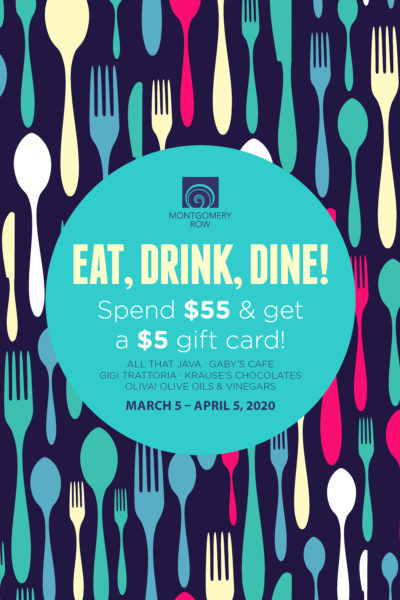 *Participating Restaurants/Specialty Food Shops:
Oliva! Olive Oils & Vinegars Tasting Bar
*Instructions & Disclaimer: 
Valid in-store, Montgomery Row/Rhinebeck, NY location only. Super Easy – #1 EAT, DRINK, DINE, SHOP at these 5 participating restaurants/specialty food shops Mar 5 – Apr 5, 2020, #2 Add/tally all of your participating purchase receipts together for entire promo period (remember to subtract any exclusions), #3 Mail your name, mailing address, email, and participating purchase receipts to: attn: EDD, Montgomery Row, PO Box 231, Rhinebeck, NY 12572.  Offer expires 4/30/20. Must be post-marked by 4/30/20. Any questions please Contact Us.  
Dine-in and take-out dining purchases are included; no limit to number of visits during promotion dates; on-line transactions/purchases and gift certificate purchases are excluded; Gratuities, coupons, shipping, and/or online purchases are excluded; tally all participating receipts together cumulatively; multiple participating stores and/or visits can equal minimums; duplicate receipts, photocopies, credit card company statements shall not be accepted as receipts; receipts must be legible and include date of sale; receipts will not be returned; expect 4-8 weeks for processing; max of $25 gift card per household/person. Subject to  reasonably change without notice. Offer expires 4/30/20. Montgomery Row gift cards are valid for 12 months.