Spend $55, Get $5 Gift Card! Spend More! Get More!
Ends October 24th
October 15 – 24, 2018
Hello October! Hello Beautiful Leaves! Hello Sheep & Wool Festival! Love love love October!
Spend $55 or more* at Montgomery Row & Get $5 Montgomery Row gift card! Spend More! Get More!
in-store, Rhinebeck location only: Breathe Barre & Pilates – Changes Clothing for Men – Chinese Healing Arts Center – Clear Yoga – Coldwell Banker Village Grn Realty – Dexter's Dog Boutique – Gaby's Cafe – Gigi Trattoria – Hammertown – Joovay – Krause's Chocolates – Megan Barbera, LCSW-R – Northern Dutchess Realty – Oblong Books & Music – Sapling (formerly Waddle n Swaddle) – Paper Trail – Xanadu Hair Studio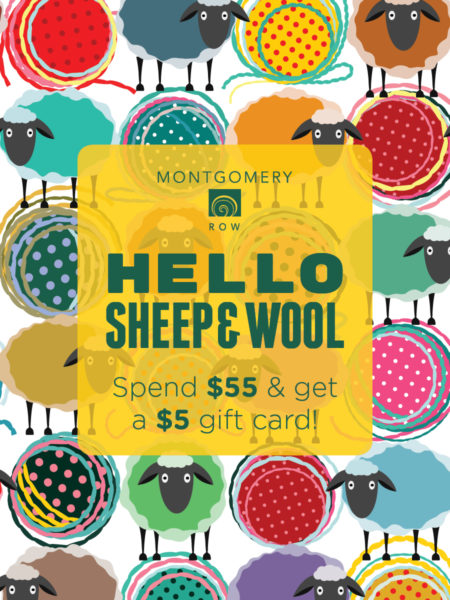 *Mail your name, mailing address, email, & receipts to: attn: SHW, Montgomery Row, PO Box 231, Rhinebeck, NY 12572. Gratuities, coupons, gift cards, shipping, and/or purchase of gift certificates are excluded; photocopies, credit card statements, vouchers shall not be accepted as proof of purchase/receipts; receipts shall not be returned; valid in-store Rhinebeck location only; expect 6-8 weeks for processing; max of $15 gift card per person; max of $20 gift card per household; minimums are calculated cumulatively – minimum value(s) may be computed from 1 or more visits and/or participating businesses; receipt can not be split between more than one person. Purchase of fitness class card for self is permitted within reason. Pick up a Hello Sheep & Wool card in-stores. Offer expires November 30, 2018.
Want More Deals & Rewards at Montgomery Row? Then SIGN UP